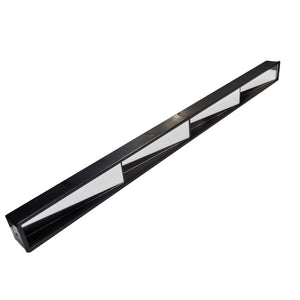 Excalibur Premium 4 Panel Rear View Mirror - Universal Fit
ACC-1050
In Stock - Ready to Ship
FREE SHIPPING on orders over $99*
---
---
Excalibur Premium 4 Panel Rear View Mirror 
Fits all Golf Carts except Club Car DS 2001.5 & up
Universal design.

Front mount mirrors provide a safe view of what's behind you, whether you're on the road, course or trail.

Measures 2-1/2"H x 35"W x 2"D.

Includes installation hardware and universal mounting brackets.
Installation Steps

Step 1: Refer to the schematic diagram of the installation of the mounting accessories to get a rough idea of how the mounting accessories should be installed. Remove the screws that have been installed on the left and right ends of the 4 panel mirror and place these two screws into the adjustable knob respectively. Then tighten the fixing screw with a 3 / 8th spanner and tighten the adjustable knob.

Step 2: Place the 4 panel mirror on the cart roof to take into account the distance between supports or areas to attach the brackets and mark the punch position, then remove the adjustable knob and use a Phillips screwdriver to fix the sliding brackets on the both sides of the cart roof.

Step 3: Place the 4 panel mirror into the sliding brackets, then install the mirror.

Note: the right side must be installed first.
---
We Also Recommend