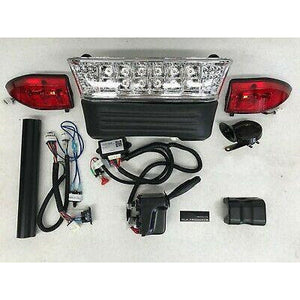 Deluxe Street Package - LED Light Bar Kit, Club Car Precedent, 08.5 & up Electric
LGT-306L+LGT-306UPG+02-084
In Stock - Ready to Ship
FREE SHIPPING on orders over $99*
---
---
Full Street Package including brake lights, signal lights, horn, 4 way flashers & Hi/Low beam


Injection molded plastic bumper.

Gas harness required for all gas carts.  Part# LGT-306H

Voltage Reducer (EXCVR3648-12) recommended if installing accessories on electric carts.

Includes Bucket Harness
Kit Includes:
Light Bar Bumper Kit: LED Headlights/LED Taillights.

Fuse Harness, column mount signal/light switch, column cover, wiring harness & brake switch.

Installation Instructions and Hardware.

Stainless steel mounting screws.
How to Determine Precedent Model Year:
Locate the Tow/Run Switch under the seat bottom. For carts 04-08.5, the Tow/Run Switch is in the center of the batteries. For carts 08.5+, the Tow/Run Switch is at the rear of the battery bucket.
---
We Also Recommend